Hacking is considered to be an offense but it is ethical, when under a contract between an organization and a hacker. Breaking into the computer system was a practice of the geeks but now surprisingly, it is a career option. In the past few years, there has been an appreciable increase in the number of Cyber crimes, such as seizing and stealing sensitive data, abusive emails, password attacks and hacking email accounts. This has led to the demand of ethical hackers, who are popularly called white hat or white hat hackers.
He hacks to strengthen system, with legal permission and makes them penetration proof. He is a computer or network expert, who is hired by organizations to detect vulnerabilities in an IT system and secure it, so that the computer system is protected from malicious attacks. A White hat hacker is a skilled IT professional with ardent desire to solve issues and protect systems from damage. He is well versed in networking and computer algorithms. Eminent organizations like IBM, Wipro hire ethical hackers to full-proof their system from malicious hackers. If you are interested in networking and programming, you can make a profitable career as a successful white hat by doing some of the noteworthy certification courses on ethical hacking enumerated below.
Eligibility for Ethical Hacker
The Ethical hacking courses train a student to detect vulnerabilities or flaws in the network or program using methods similar to that of hacking. These courses could be neutral or vendor specific, such as, Microsoft, Cisco, and Novell etc.
Educational:
To become a white hat hacker, a person should have educational qualification as a computer engineer and should have adequate knowledge about IT and computer science.
He should be acquainted with the programming languages like Ruby, C,C++, Python and so on.
He should have good knowledge about the widely used operating systems, such as the different versions of Linux, Windows and Firefox.
He should do the some valuable certification courses which provide knowledge about the designing and implementation of firewalls, wireless security, IDS, Cryptography, Windows security and Linux security  among others.
The following certifications are noteworthy to become a successful ethical hacker:
Cryptus Certified Ethical Hacker (CCEH)
Cryptus Certified Forensic Investigator (CCFI)
Cryptus  Certified Network Associate Security (CCNA Security)
Personal Attributes Required To Become An Ethical Hacker Are:
To take up ethical hacking as a profession, a person should have the capability of solving problems, think analytically, should be dedicated and motivated and should be investigative in nature.
Apart from the above-mentioned traits, a person willing to take up ethical hacking as a profession should have integrity and should be trustworthy and honest.
Ethical hackers should be resourceful and adaptable to troubleshoot any incalculable snags during testing the systems and software.
A person interested in this field should have considerable knowledge of computer software and hardware.
He should have interest in the basic knowledge of programming, networking and Internet in general.
He should always update his knowledge about the latest technologies.
Job Prospects for Ethical Hacker: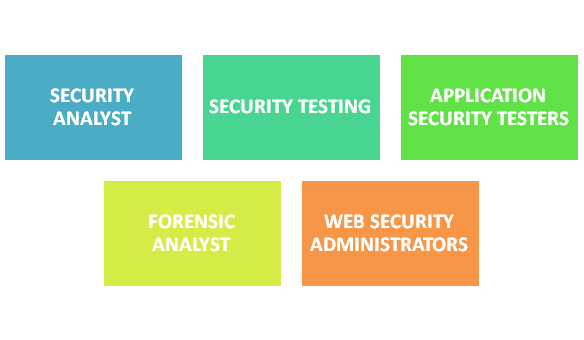 Due to the ever growing increase in Cyber crimes, ethical hackers are in great demand in the IT sector. Jobs are available for the White hats in the following organizations
Networking and Internet security are the two rapidly growing industries, where ethical hackers find employment in information security and ethical hacking. They are hired by these organizations to detect vulnerabilities in the system and fix them
Many government agencies also hire White hats. They find job opportunities in the detective companies, law enforcement and military agencies, defense organizations, investigative services and so on.
Ethical hackers are also employed by airlines, hotels, retail chains, financial service providers, retail chains etc.
Some reputed organizations like IBM, Wipro etc employ certified ethical hackers for various roles like Network Security Administrator, Network Security Systems Manager,Web Security Administrator, Security Executive etc